Stag nights are one of the most important responsibilities for a wedding party, and if you're in charge of planning on it you want to make sure you get it right. That's why a solid bachelor party game or two can make sure things don't get stagnant.
When choosing a great stag party game you want to make sure you'll get something the groom will love. Ideally something that breaks the ice and has everyone laughing and having a good time. Plus you want to make sure it's easy to understand and play in case some of the guests are a bit too inebriated to understand a complex game.
Best Bachelor Party Games
Giant Tipsy Tower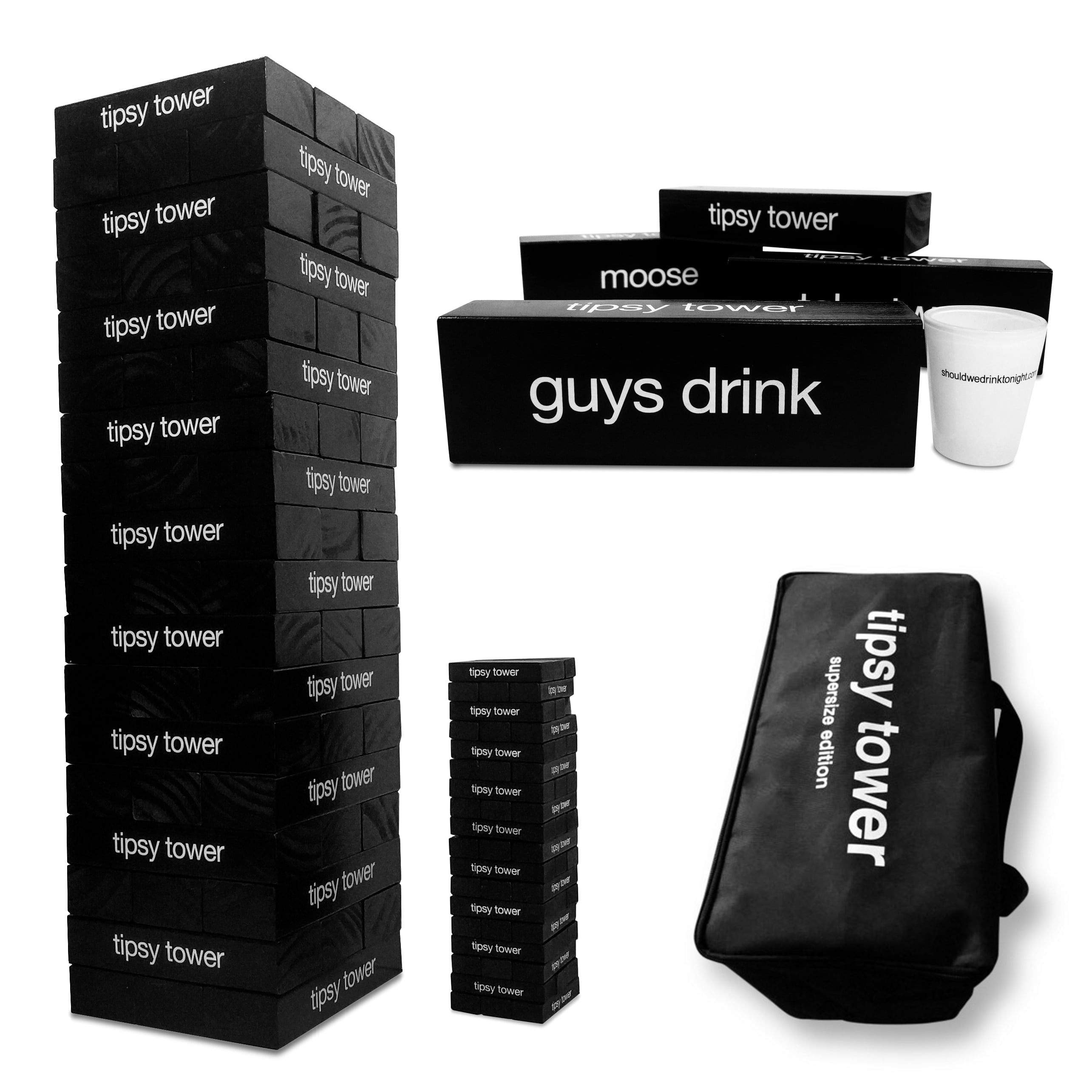 The simplicity and hilarity of Tipsy Tower makes it a great choice for bachelor parties or parties in general. It plays very similar to other tower games with a couple big differences; the tower is massive and whenever a piece is pulled the puller must do whatever it says on it.
With these huge blocks you're going to want a lot of floor space or a nice flat surface outdoors. The blocks each come with fun drinking rules on them already, but if you want to make your night a little more personal we suggest writing some of your own groom-specific rules onto the blocks.
Kubb
Kubb is an action packed lawn game that takes it's root from ancient Viking games. It looks like a combination of Horse Shoes and lawn Bowling, where teams gather on their side of the pitch and hurl batons at each others pieces. As the game heats up, players knock over eachothers Kubbs until they get a clean shot at the opponent's King.
Kubb is one of those games that's easy to play but hard to master, a perfect blend of simplicity and depth. In fact there has been many large-scale Kubb championships across most of the world. Keep in mind this game needs to be played out doors with a lot of space for the pitch.
Drink-A-Palooza
Drink-A-Palooza is a board game that combines all the classic drinking games like Beer Pong, Quarters, Card Games and more. It's easy to understand and play, as players just roll and move around the board and do whatever the space tells them to do.
This great bachelor party game really is an all-in-one package. If you're stag loves drinking games than this one is a no-brainer. The rules are simple, the games are fun, and it's sure to bring a smile to your group.
Drink-O-Tron
Drin-O-Tron is one of the best flip-and-play party games out there. Inspired by drinking games like Kings, all you have to do is take turns flipping the cards and doing whatever it says on the other side. A great ice breaker game to get the party started.
Another great aspect of Drink-O-Tron is it's portability. Since it's contained in a small tin you can bring it to a pub, club, or wherever your party winds up.
Spike Ball
For those looking for a little more action in their stag night, Spike Ball is one of the funnest yard games around. Played 1v1 or 2v2, the goal is to bounce the ball off the netted trampoline and past your opponents on the other side.
This game is ideal for the beach or a back yard. You'll need a good amount of space around the trampoline for people to run around without bumping into lawn furniture. We suggest adding in some drinking rules to make the the groom has a great time.
Siege Pong
Available at the SiegePong Store
Siege Pong takes Beer Pong to a totally new level. At it's core it's a beer pong game where players try to get the ball to land into the opponents cup, however there's a ton of reasons this game stands out. Such as unique classes to give you special throwing abilities, building walls to block shots, sending knights to attack your opponents structures and much much more.
For this game you'll want to make sure someone knows the rules before starting, that way everyone doesn't have to sit around beers-in-hand waiting for the game to start.
Ladder Toss
Another great lawn game is Ladder toss. Each team takes their ladder balls and aims to toss them onto the structure hoping to get it on the top rung. A great combination of coordination and fun.
There's tons of great bachelor party games out there so feel free to experiment. At the end of the day, the only thing that matters is that the groom has a good time.